What is called Slippery Design, is a mindset for you and me—the multitude of amateurs, produsers, designerz. A design essay, practice, manifest published by Manuel Bürger in 2013. On slippery ground balance and order are defied. The void opens for dissemination, may it be through irritation, mutation or failure. Empowered to be truly virtuosic masters in this form of writing and reading, we scrape out the last bits of syllables from the bottom of our semiotic pans. Discourse is not an option in that matter.
In the same way we strive for sameness when being in "Youth Mode". Slippery Design "lives in and through differences". Because this contradiction and its possible misinterpretation is seen as an opportunity for connection, both, Youth Mode and Slippery Design, still push forward the goal for a contradictory, controversial design-life.
But in what sense? Possibly its acknowledgment of produser Fitback as a basis for its own existence. Maybe its proclamation for an Odyssey through the depth of connotations. Or potentially its rant against the aged idea of form following function and its (n3w) fooling of it? Looking back at the current states of affairs/our society/age, our fear of failure and the by Bürger too described "commandment to always function and always improve" it might be this where Slippery Design aims for failure—"The Challenge of Dysfunction":
Receiving a Slippery Design object is thus complicated. It's rarely possible to understand at first glance. The failure of understanding is literally preprogrammed; the form, after all, is somehow unknown, unfinished, fragile… This encourages an open interpretation – but is not, of course, in the spirit of a design that seeks to synchronize sender and receiver. Slippery! The recipient slips and falls into the void; but if the framework is tightly built, it will catch him at a different point. The mastering of searching and finding, the being disappointed and allowing oneself to be surprised, is rewarded with wild, interwoven ideas that stretch throughout the space. One has only to follow them. (Manuel Bürger, Slippery Design, 2013)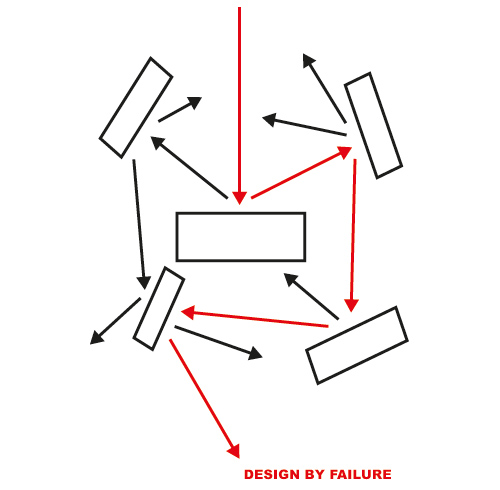 Now this is also where You will be caught again, after you possibly got lost in definition wobble because you missed the chance for discourse. Nobody's perfect, don't you worry. The accidental is taken into consideration, especially on slippery ground. Slippery Design takes the accidental into consideration through an openness for interpretation, it empowers its viewers and acknowledges their literacy. Rather than only pointing towards a "monotonous truth discourse" and its "critical potential" empowerment and criticality are balancing—the potential middle of Lonergan's diagram.
​
​